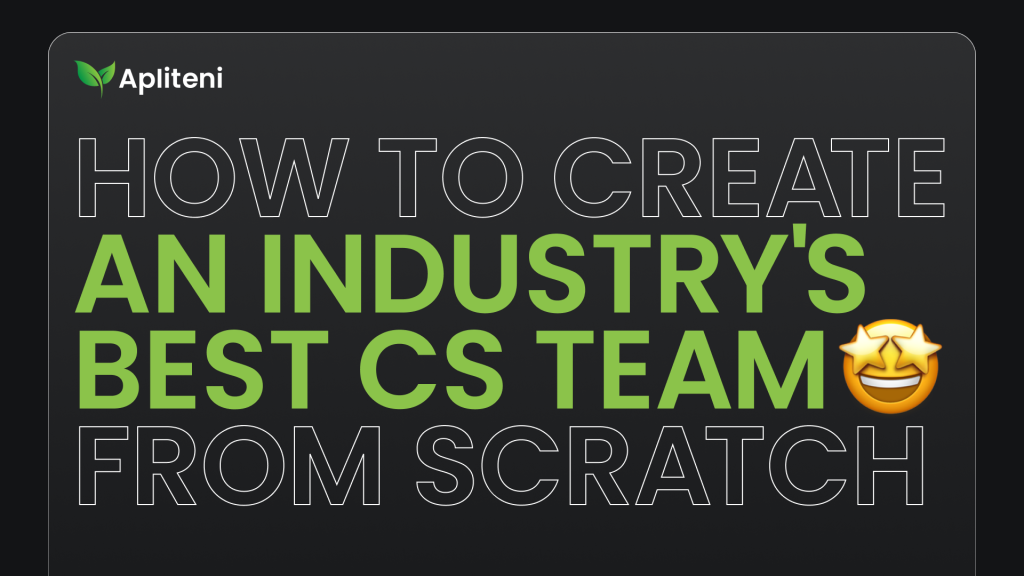 The defining factor that sets a company apart is often its dedication to an exceptional Customer Success team. A robust CS team addresses problems and proactively creates lasting relationships and trust when executed effectively. At Apliteni, our foundational pillar is our top-tier CS team, evident from the high praise our clients consistently bestow upon us on platforms such as Trustpilot.

Understanding the Integral Role of Support
Before diving into the "how," it's vital to grasp the "why"' CS isn't just about troubleshooting; it's a holistic experience. Each interaction, whether a question about a product feature or an urgent technical issue, offers an opportunity to solidify a customer's trust in a brand.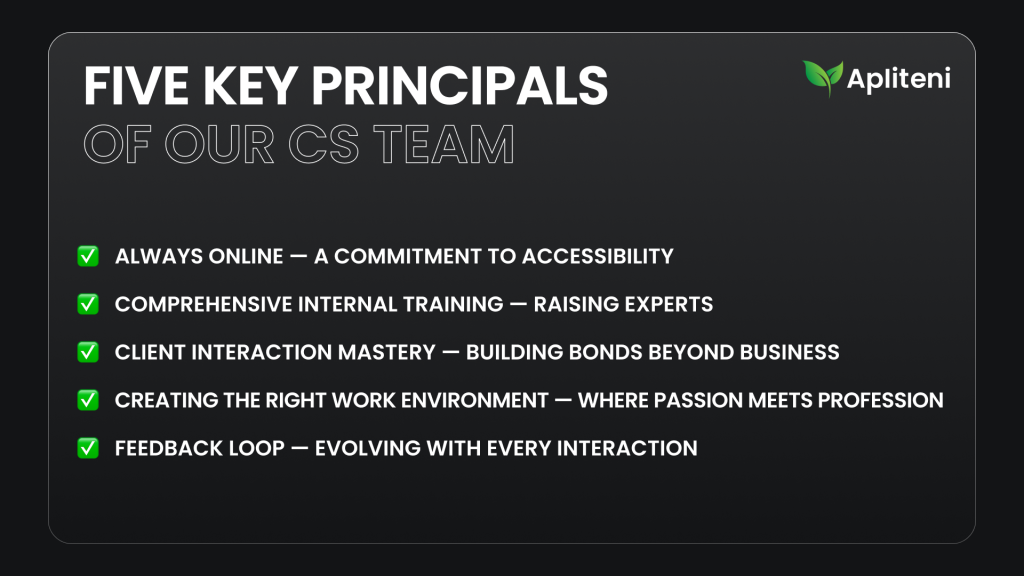 Five Key Principles of Our CS Team
Always Online – A Commitment to Accessibility
Recognizing the spontaneous nature of user queries and the global reach of our clientele, we have ensured our support is active for a comprehensive 12-hour stretch from 8 a.m. to 8 p.m. GMT+0. This guarantees minimized wait times and more immediate resolutions.
Our online presence isn't confined to just our website. We are accessible across various digital touchpoints to ensure our users can reach us from their preferred platforms.
Comprehensive Internal Training – Raising Experts
Apliteni's training course isn't an off-the-shelf solution. We have devoted resources to craft a program that dives deep into our products and the industry's nuances. Theoretical knowledge is enhanced with hands-on sessions, ensuring every member is adept at handling real-world scenarios with our product suite.
Client Interaction Mastery – Building Bonds Beyond Business
We understand that effective support transcends technical prowess. Our training modules include segments on developing empathy, active listening, and clear communication through emotional intelligence training. We also have role-playing workshops and simulated client interactions to prepare our team for diverse client personalities and challenges.
Creating the Right Work Environment – Where Passion Meets Profession
By offering continuous learning and development opportunities, we ensure our CS team stays updated, motivated, and invested. Regular acknowledgment of outstanding performance not only boosts morale but sets the standard for the level of service we aim to provide. There are numerous growth opportunities. In fact, our current CMO and Head of Sales once worked as CS representatives at Keitaro tracker.
Feedback Loop – Evolving with Every Interaction
We conduct routine assessments of our support interactions to identify areas of improvement, ensuring we are always on an upward trajectory. Client suggestions and critiques are invaluable. We actively solicit feedback and incorporate it into our training, ensuring our support remains aligned with client expectations.
Establishing a gold-standard support team goes beyond recruiting the right talent. It requires an unrelenting commitment to continuous improvement, an understanding of both the technical and human aspects of service and a nurturing environment that spurs growth and passion.
At Apliteni, our approach to support is methodical, expansive, and ever-evolving, ensuring we remain at the pinnacle of service excellence in our industry.