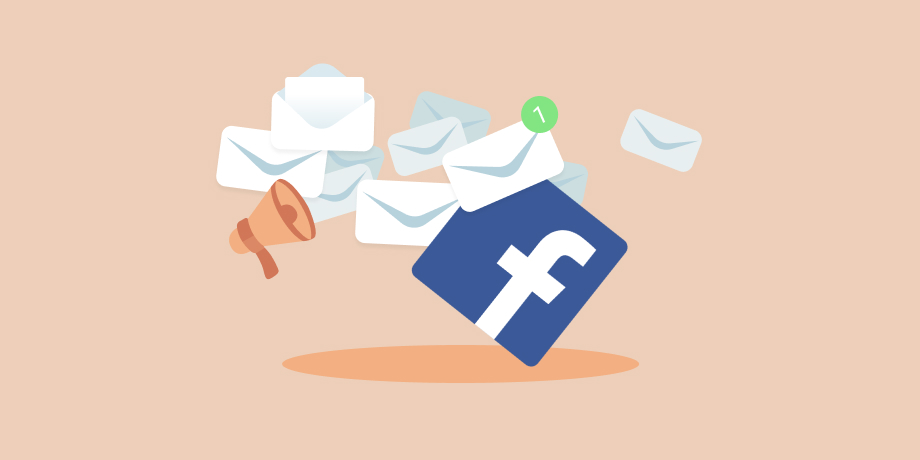 Last month, Facebook, Instagram and WhatsApp experienced two major disruptions: social media went down, users and entrepreneurs whose businesses are dependent on these sites panicked, while email marketers emerged as winners.
Facebook went down on 4 October and this lasted more than six hours, the second time it went offline was on 8 October, but for less time. Facebook confirmed that there was a problem and apologized twice using an identical message each time.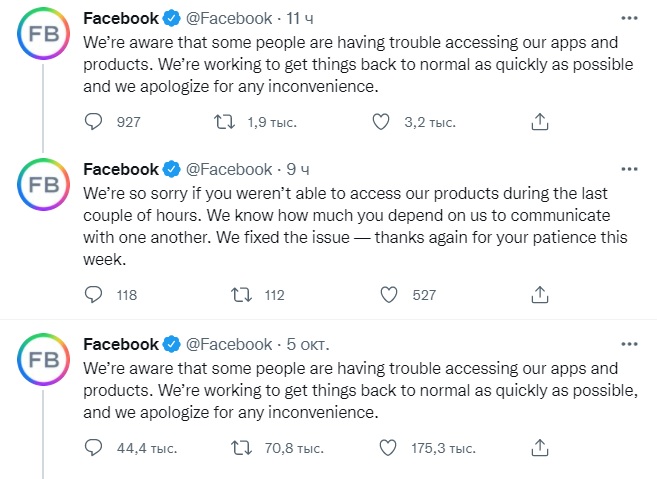 The same problems also arose with Netflix, Zoom, Tinder, Viber, and YouTube.
What happened after:
Telegram registered about 70 million new users.
People checked on Twitter to see whether Instagram was working. 
Instagram business owners and bloggers panicked.
The conspiracy theorists formulated a few more crazy theories about this being the beginning of the end of everything.
Email marketers figured out how to turn this massive conundrum about 'what's next?' to their advantage.
What Email Marketers Have Done
Within half an hour after everyone realized that this failure was not just a local glitch; some companies realized the value of their email databases and sent emails to their customers. And the main focus was on what the topic in the subject line said which is the first thing you see in an email.
A jeans brand Mott & Bow, for example, sent an email to their customers with the subject: «Here's a distraction for you while Instagram/Facebook is down….» And Lulu's, another clothing brand, intrigued by this, sent an email with the heading: «Instagram (Got U) Down?»
Rifle Paper Co, an everyday goods brand, hinted: «Instagram may not work, but our holiday arrivals are on the rise». Other brands such as Postable which specializes in sending letters, postcards, etc.,) developed an entire ad campaign in just a couple of hours. Letters appeared with the following subject: «Facebook and Instagram help is already here!»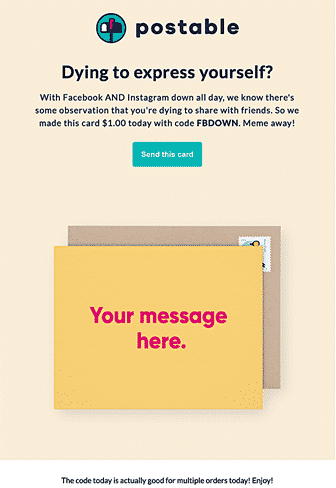 And the gift shop, Cratejoy, was very original: «The Internet is broken! 40% discount!»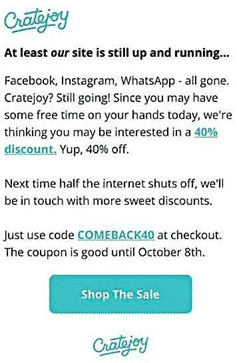 Do you agree that these campaigns attract attention?
These bold ad hoc strategies have proven that email can be as profitable as any social media network.
Why do mails create good traffic?
everyone has an email address (as opposed to a social media account, especially after complaints about Facebook's privacy policy);
Email is one of the few push channels, so you don't have to wait for a user to visit a website, social network, or perform a search;
it is one of two universal digital channels (the second is SMS);
it is fast and flexible;
you can send various types of information by mail;
it is efficient.
The Facebook crash showed
1. Such errors, which led to the shutdown of everything, can happen to any similar site. It doesn't matter if you have 100 subscribers or 100 thousand, you won't be able to contact them. We need more reliable, alternative ways of informing and promoting.
Email is just that.
2. Before this crash, there was a big glitch in 2019 and Facebook services worked intermittently for almost a day. And now it has happened again. And, most likely, it will happen in the future.
Many people underestimate email marketing, seeing it as irrelevant these days. But the slightest glitch in the functioning of the major social media sites and suddenly using email is not such a bad idea after all. Recently, someone launched an advertising campaign on email shortly before Facebook crashed, but it did not react in time and lost money.
Email is a full-fledged communication tool you can work with not only when other media fails. It allows you to build detailed funnels, use content in any format, and influences users in so many ways.
The main thing is to grab your attention right at the beginning. Knowing what is trending in the digital market and what is happening in the world will help you with this.