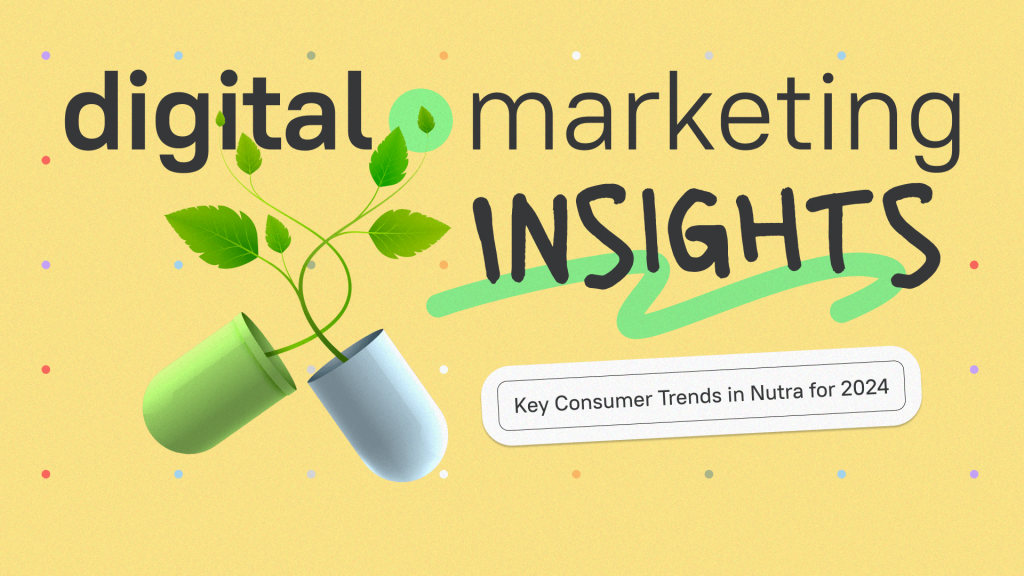 When picking your next Nutra offer, you should know what's in trend with the consumers, who are the key target audience for the products, and even be meticulous with details like the form of the product (powder, tablet, liquid, etc) and tastes that the buyers prefer this year. Here are the industry's trends in the Nutra in 2024. 
A study by Market Data Forecast predicts that by the year 2028, the worldwide market for nutraceutical products will soar to $722.49 billion, advancing at a compound annual growth rate of 7.5%.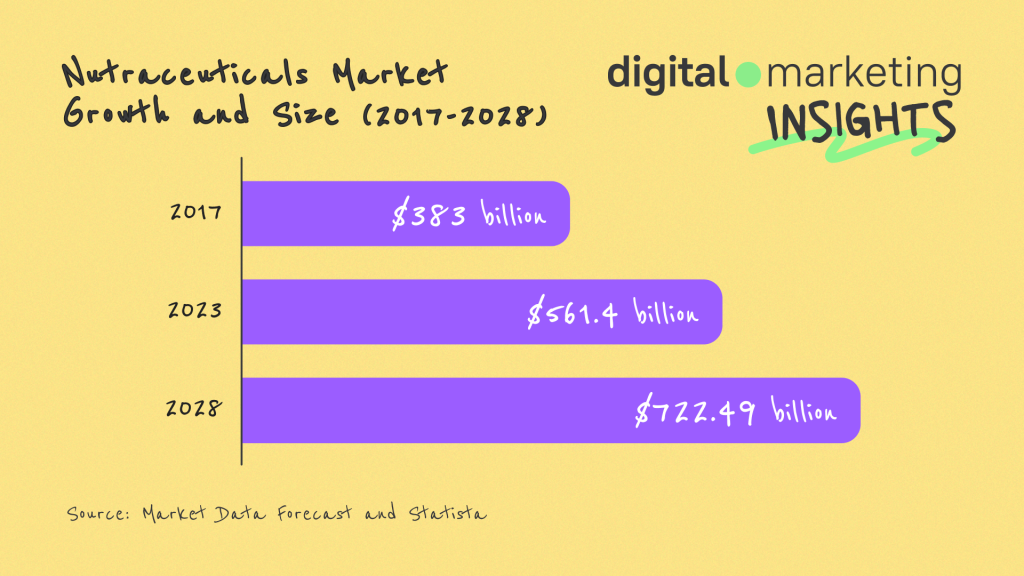 Regions leading the charge in this rapid expansion are Asia-Pacific and Latin America, where the market for nutraceuticals is surging. Meanwhile, North America, inclusive of the USA and Canada, stands as the most mature market for these products, capturing a substantial 38.1% of the global share. Europe is not far behind, holding a significant 29.9% slice of the market.
In general, Millennials and Gen Z are gravitating towards drinks and powders that provide a satisfying flavor experience with an instant feeling of wellness. At the same time, baby boomers and Gen X prefer the ease of solid dose forms.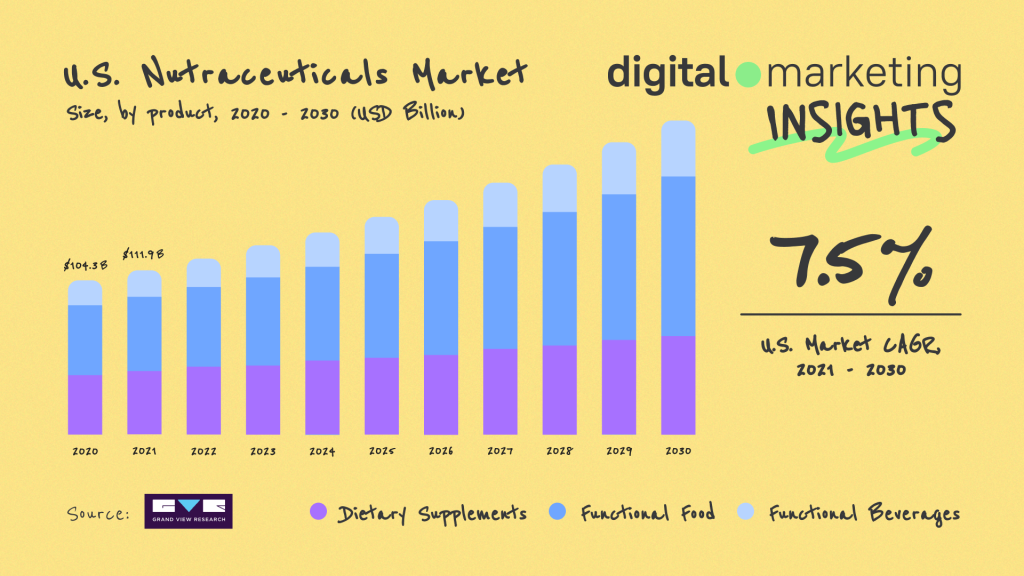 This uptrend in the nutraceutical products industry is linked to consumers' escalating demand for healthier lifestyles, a burgeoning recognition of the benefits of natural products, and the inclination toward customizing diets to individual nutritional needs. Additionally, the rise in the prevalence of dietary-related health conditions further propels the demand for Nutra offerings.
Who Will Buy More Nutra Products in 2024: Men or Women?
Nutra Horizons says that women will remain the primary shoppers for health products next year. They claim that 21% of women feel their health has gotten worse in the last two years.
Two critical concerns for women globally are that they are not eating as well as they should (52%) and getting older (39%). A whopping 73% of women plan for their health in the long run and are trying to take better care of themselves.
Women globally are focused on boosting their immune system, better mental health and stress control, and simply eating better.
Eating better means more than just eating less or avoiding some foods. To eat better, women are planning to:
Eat more fruits and veggies (72%);
Cut down on sugar (70%);
Take more vitamins (58%).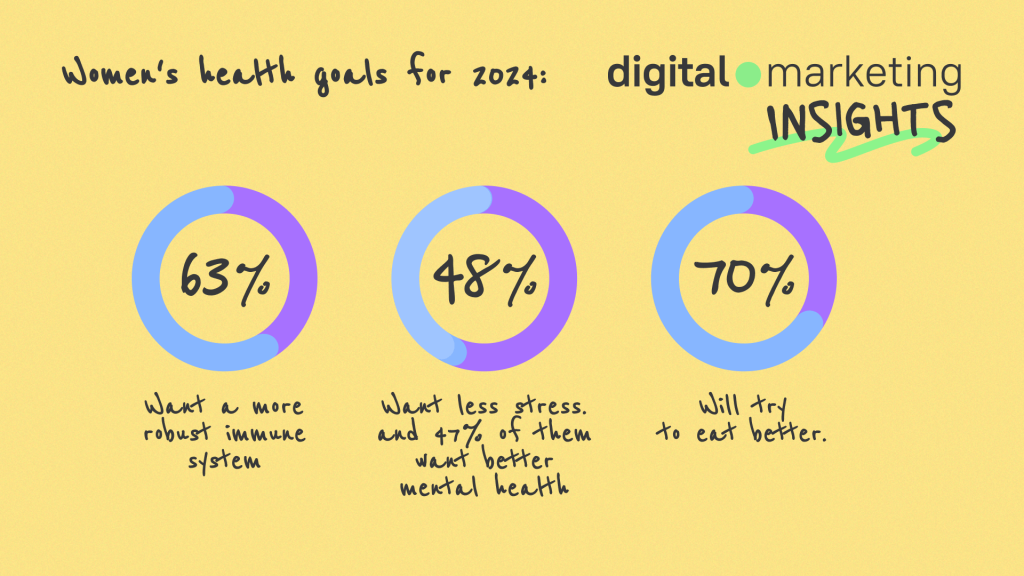 Key Trends in Nutraceuticals in 2024
A Focus on Natural Ingredients
Nutraceuticals World has noted an uptick in consumer interest, with up to 41% of consumers drawn to natural solutions for stress, mood, cognitive health, and sleep disturbances. The rise is evident in the popularity of nootropics, 'inner beauty' supplements, and digestive health products.
The Nutrition Business Journal (NBJ) forecasts a near 6% growth in the market for herbs and botanicals for 2024, capturing 19% of the dietary supplement market share. This sector is well-aligned with the consumer shift towards specific, targeted health solutions. The most current herbal ingredients trending are Ashwagandha and elderberry.
Moreover, NBJ has observed a remarkable upsurge in mushroom supplements, with a fourfold increase since 2018. This trend, along with a preference for high-quality, standardized herbal combinations, reflects that 25% of consumers, as per the Natural Marketing Institute (NMI), are now turning to medicinal mushrooms.
Expert Market Research (EMR) anticipates significant expansion in the global mushroom sector, projecting an 8% compound annual growth rate (CAGR) from 2024 to 2032. The mushroom demand surge is credited to their adaptability, nutritional profile, and broad use in the food and pharma sectors. Key benefits sought are energy enhancement, immune support, and general wellness, with mood and cognitive benefits following closely.
Evolving Vitamin and Mineral Market Dynamics
Vitaquest reveals a shift from the traditional, comprehensive multivitamin to a segmented market seeking bespoke, targeted nutritional combinations. The all-in-one multivitamin is replaced by customized formulations catering to individual health needs.
Magnesium, specifically, is witnessing the quickest market expansion, attributed to its mood and immune system benefits. Its versatility is highlighted in its various formulations like gummies, chewables, and drink mixes and its availability in different packaging such as stick packs, shots, and traditional bottles.
The Popularity of Dupes
The ADM Trends Flavor and Color Outlook suggests a consumer drive towards affordable alternatives to favorite products, with a nod to nostalgic reinventions. With a staggering 234% increase in Google searches for "dupe" over five years, social media hashtags also reflect this trend. The emphasis isn't on imitation but on affordable, genuine experiences that hark back to favorable memories.
The Rise of Mood and Brain Function Supplements
According to New Nutrition Business, 21% of Americans consciously choose foods that uplift mood and mental health, with a notable generational divide. Younger adults, mainly those aged 25-34, are more inclined towards mood and cognitive health benefits than those over 65.
Nootropics are gaining traction, with the market projected to hit USD 6,059.4 million by 2024, as per Credence research. Marknteladvisors highlights the growing public awareness of mental health and the corresponding medications as a significant contributor to the nootropic supplements' market presence.
The forecast for the nutraceutical industry in 2024 is a mirror of global society's growing commitment to health and wellness as cornerstones of everyday living. Media buyers who choose offers that are aligned with consumer insights and adapt with agility will likely lead the industry by promoting products that resonate with consumers on a fundamental level and establishing brands that are not only successful but also significantly impactful in enhancing the quality of life.