Today we are going to talk about fingerprinting as a way to identify users online, and about a tool that helps you avoid such identification — namely, multi-accounting browsers. What are they for, what tasks can they solve, and who uses them in their work?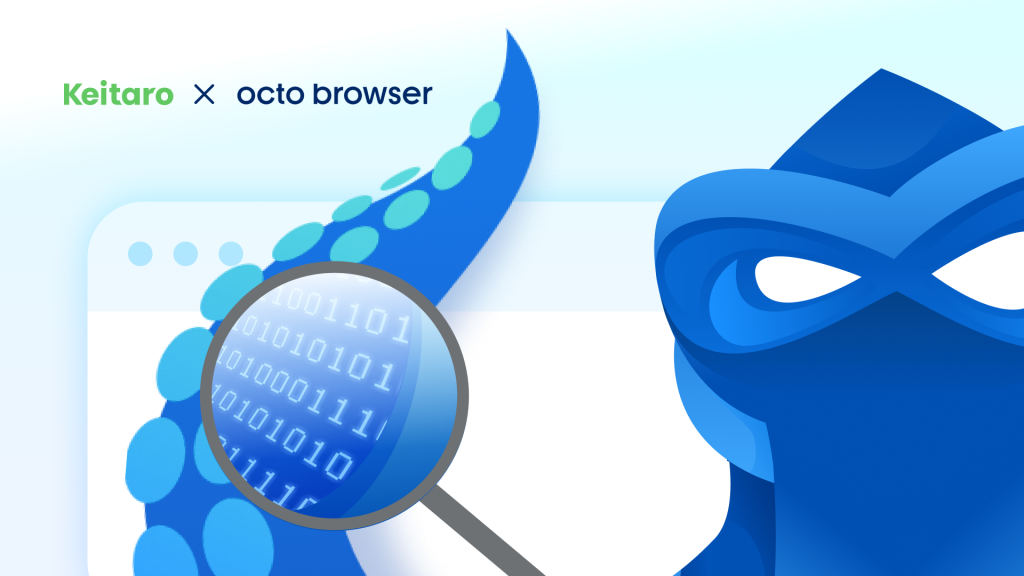 What is fingerprinting and what is it for?
Every website on the Internet identifies its visitors (yes, even those who do not log in) using several parameters that are not directly connected to a user's identity. Usually these include information about the person's device used to go online, their browser, and their connection type. Websites collect this information for commercial purposes, as it is important for them to know who their users are, what their interests are, and what they are doing on the website in order to show them ads that are relevant to them.
What's more, websites are good at this, because they employ a technology known as fingerprinting, which helps them track users on the Web with up to 94% precision. A fingerprint, also known as browser (or digital) fingerprint, is a unique parameter set that consists of information about and configuration data of the browser, OS, and other data. The fingerprint is created from that data, and it is conceptually separate from other IP address and cookies-based tracking technologies.
The browser fingerprint itself consists of more than 50 different parameters, among which you can find:
the IP address
user agent and client hints
screen resolution
installed fonts
language settings
timezone
device configuration
OS
browser extensions
and many others.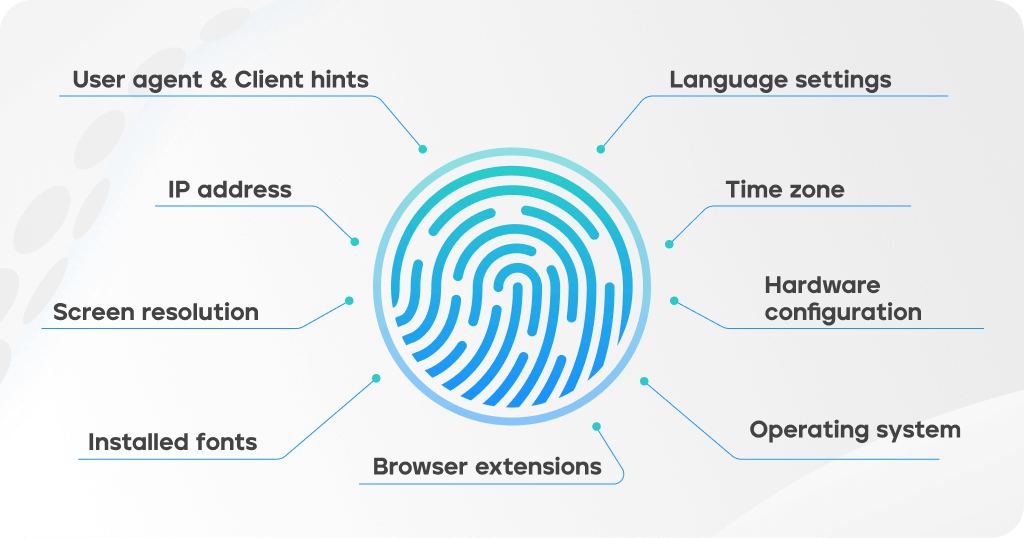 Why is it so hard to hide your fingerprint?

Data collection and storage necessary for fingerprinting are not performed on the user side, and this is why it is hard to avoid or bypass. Your OS and browser parameters will be sent to the server anyway, as this is an integral part of how browsers work and websites are displayed.
Any device you might use (a laptop, a desktop, a smartphone, etc.) does not hide these parameters when visiting a website; on the contrary, they share this data themselves for the websites to be rendered and function better. Small-scale manipulations, like clearing the cookies, or connecting through a proxy or a VPN are usually not enough to prevent a website from reidentifying a returning visitor. This is why in order to hide your identity from a website and really change the fingerprint of your device, you need a special tool: a multi-accounting browser.

What is a multi-accounting browser?
Multi-accounting browsers use fingerprint spoofing (i.e., changing) technologies that substitute your actual fingerprint with a different one using parameters that any other rank-and-file real user could have. Moreover, you can use such browsers to work with multiple accounts and profiles at once by creating non-overlapping digital fingerprints: this means that each such profile created in a multi-accounting browser will possess a unique fingerprint, and websites won't be able to link them in order to block, ban, on restrict their actions. When you connect a VPN and/or external proxies to such a browser, you can guarantee yourself complete confidentiality and eliminate risks of bans for running multiple accounts on the same device.
What are multi-accounting browsers for?
Large companies, such as Google, Meta (Facebook, Instagram) and Amazon, constantly improve and automate new ways to identify users and moderate content. This means that users who simply want to have several accounts on such platforms might be banned forever without a possibility of account recovery, and if a website detects all accounts logged in using the same device, they all risk being restricted or outright banned.
Multi-accounting browsers help you preserve complete anonymity, avoid identification, and control and manage multiple accounts on any platform, often for marketing purposes. These browsers help you create multiple accounts with unique fingerprints that will be treated as separate users by platforms. This means that you will be able to easily launch several online ad campaigns simultaneously, collect large amounts of data on marketplaces, manage multiple storefronts, and even use multi-accounting in crypto, which is especially helpful when working with launchpads and airdrops.
Each service identifies its users differently; some use a specific dedicated fingerprinting method, and others employ all possible ways to collect and analyze data at the same time. Services update their identification algorithms at different times, so it is important to monitor this for your profiles to work effectively and for a long time. A multi-accounting browser is a key tool for this, and this is why professionals tend to choose high-quality paid-for software that allows them to manage and configure digital fingerprint parameters, automate their actions, and scale up their businesses taking into account particular features of different markets.

How do I choose the best multi-accounting browser?
First and foremost, you should look for the highest-quality digital fingerprint spoofing. Account security is directly dependent on fingerprint management technologies, so, naturally, this should be your first consideration when choosing a multi-accounting browser. Our partners at Octo Browser have created a browser that manages digital fingerprint at the deepest possible level: in the browser kernel itself, thanks to which profiles created in Octo Browser are virtually untraceable and unlinkable.
Similar currently available solutions on the market do not employ such cutting-edge technologies, as a result of which users risk their device data being leaked, which, in turn, will lead to detection, identification, and subsequent bans of their accounts by websites.
You can see what your browser fingerprint looks like on such checking services as Pixelscan, BrowserLeaks, Whoer, and Creepjs. They will also show which fingerprint parameters might raise suspicions of websites, especially if you use unreliable anonymity-preserving tools.
Octo Browser and Keitaro are best together for traffic management and ad campaign security
Professionals working in affiliate marketing and traffic management use such tools as Octo Browser to create multiple ad accounts, and Keitaro to analyze traffic of these accounts. This toolset allows them to quickly react to the actual effectiveness of their ad campaigns, easily single out the most profitable ones, scale them up, and maximize their profits.
Automation and multi-accounting are new technologies to develop digital businesses quickly
Multi-accounting is crucially important for online businesses, as it allows you to increase your online presence and develop your businesses on worldwide markets. This is how affiliate marketing, e-commerce, dropshipping, and digital agencies running large amounts of ads work. By using specialized tools to attract an audience, test ad campaigns and ideas, and analyze and optimize traffic, businesses can achieve greatly improved results in lead generation, and thus increase their profits. However, to use these technologies effectively, it is crucial to minimize risks and choose only the best tools that guarantee the highest possible quality, deliver constant updates, and offer an easily-reachable user support.
This why Octo Browser and Keitaro have an offer for professionals: 7 days of free Base Octo Browser subscription with the KEITARO promo code (only available to new users). Test your automation and traffic optimization methods and see for yourself the excellent quality these tools deliver.