Hello everyone 👋
We would like to take a moment to highlight one of our valued partners, AdOperator, a remarkable advertising network that allows you to create and manage effective advertising campaigns or monetize your traffic as a publisher.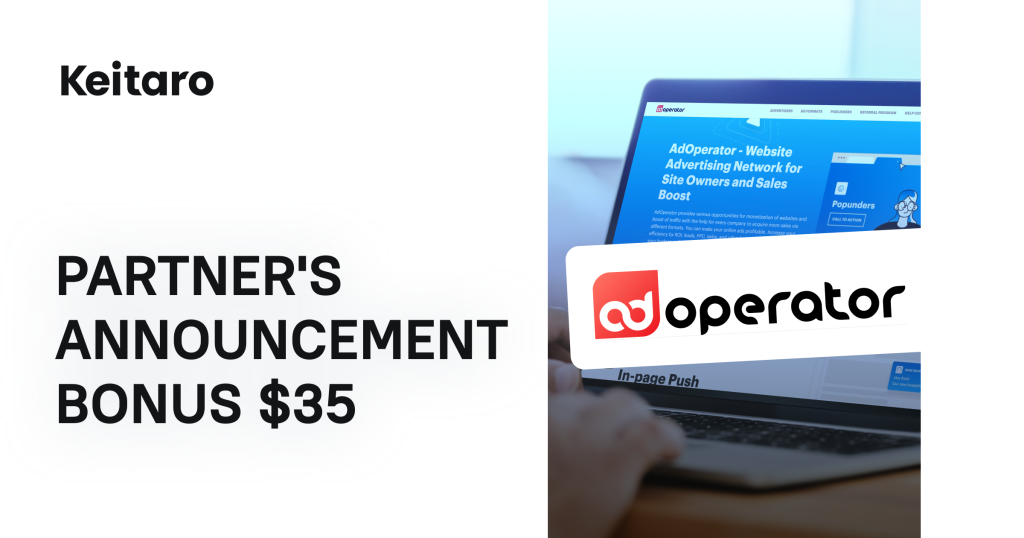 AdOperator specializes in three high-performing advertising formats (Web Push, Inpage Push, and Popunder), providing access to traffic from over 200 countries across a wide range of popular verticals and niches:
E-commerce
Finance
Dating
Gaming
Nutra
Sweepstakes
Betting
Gambling
Why do advertisers love AdOperator?
⚡️ User-friendly and intuitive interface,
⚡️ Quick approve of advertising campaigns
⚡️ All the targeting tools that are necessary for work (OS, browsers, mobile operators, etc.)
⚡️ Result-oriented customer support.
With all these advantages, you can expect a seamless and enjoyable experience.
⚙️ Keitaro Tracker integrates seamlessly with AdOperator enabling you to obtain data on bid costs, ad_campaign_id, publisher_id, and conversions. Simply navigate to the Traffic Sources tab, click Create, and select AdOperator from the list of ad networks.
🎁 As a special offer for all Keitaro users, receive a 35$ bonus on your balance when you deposit 300$ or more into your account.
Just use the promo code KEITARO23 when depositing.
Looking to further boost your revenue?
Take advantage of AdOperator's referral program for publishers. Earn 5% of the revenue generated by any publisher you refer to the network by sharing your unique referral link. You'll receive 5% of their earnings as they succeed on the platform.
Experience the potential of AdOperator for your campaigns and try it out today.