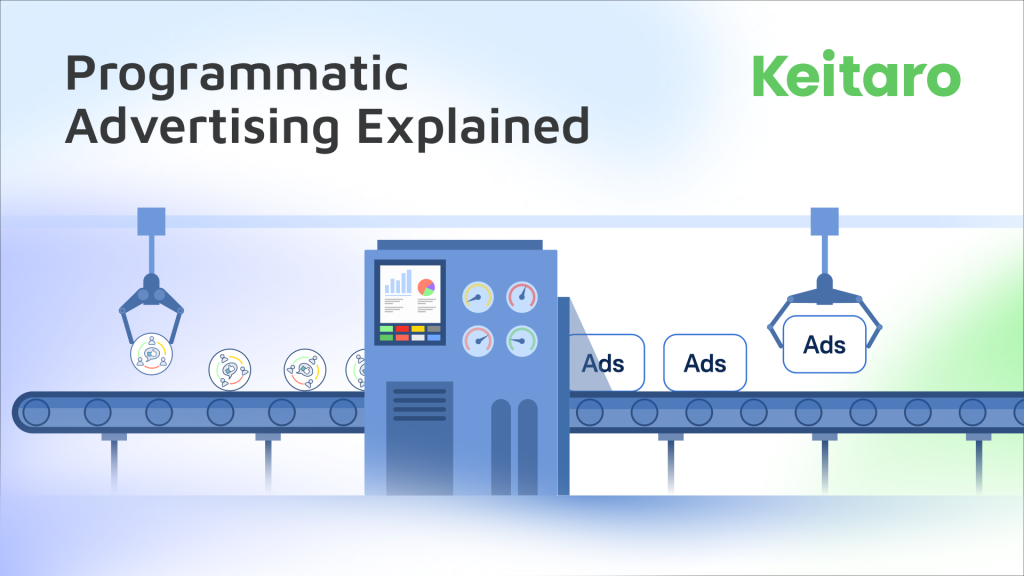 Advertisers are shifting focus from the usual "blanket" campaigns when they pay for clicks, views, or actions from anyone to a more targeted and automated approach of programmatic advertising.
According to eMarketer's data, US advertisers spent over $61 billion on programmatic ads just two years ago. By the end of 2023, this amount is expected to soar to $133 billion, accounting for 91% of digital ad expenditure. 
What is Programmatic Advertising
Programmatic advertising is an automated technology for purchasing media, setting it apart from traditional, often manually-driven, digital advertising methods, like affiliate marketing. By harnessing data insights and algorithms, programmatic advertising ensures ads reach specific users at the ideal moment and the best price, all made with a single click across numerous platforms.
In essence, programmatic display advertising includes all digital ads processed or delivered automatically. This spans from APIs set up by publishers to widely accepted real-time bidding technologies. It also covers native ads and promotions on social networks, including Facebook and Twitter.
Simply put, if you've ever noticed ads that seem like they were made for you —based on your search habits, demographic data, interests, etc.—that's programmatic advertising at work. Another person would see an entirely different ad, better tailored to their profile.
Getting Programmatic Offers
A few ways to get the offers are usually presented by ad networks. If you don't have the reputation and successful cases behind your belt yet, you can try real-time bidding (RTB). It is often termed an open auction with ad space prices set in real-time. It's available to any advertiser or publisher and is a cost-efficient way to reach a vast audience.

Once you have a proven track record, you might be invited to join a private marketplace (PMP). It resembles open auctions but with limited access. In PMPs, some publishers might even hold a screening process for advertisers.
When publishers sell their premium inventory in a one-on-one auction at a set CPM price to a selected group of advertisers, it's called a preferred deal. It allows for greater transparency between buyers and sellers as publishers can view the full inventory before the ad runs, controlling the quality of content.
Another advanced digital marketing method still holds on to the pre-90s roots with programmatic direct. Where publishers skip auctions and directly sell ad spaces to advertisers at a predetermined cost per thousand impressions (CPM). 
Programmatic Media Buying Ecosystem
If you'd like to tip your toes in this method, you must be familiar with the programmatic ecosystem. Usually, the advertiser will determine the exact parameters for the target audience that has to be reached, including geos, age, gender, interests, past search history, and more. And they will only pay for traffic, actions, or views generated by the chosen audience. Here are the key elements that you have to be familiar with:
The sell-side platform (SSP) allows publishers to automatically sell ad impressions to potential buyers. This category includes ad exchanges and networks. Some notable SSPs are Google Ad Manager, Amazon Publisher Services, OpenX, and Criteo. For video-centric SSPs, SpotX and Teads lead the way.
Demand-side platform (DSP) is software that allows agencies and advertisers to purchase ad space across platforms. It usually uses machine learning algorithms and AI to do its job. Display & Video 360 (Google), The Trade Desk, Amazon DSP, LiveRamp, Adobe Advertising Cloud DSP, StackAdapt, and Yahoo Ad Tech are some of the most popular DSPs.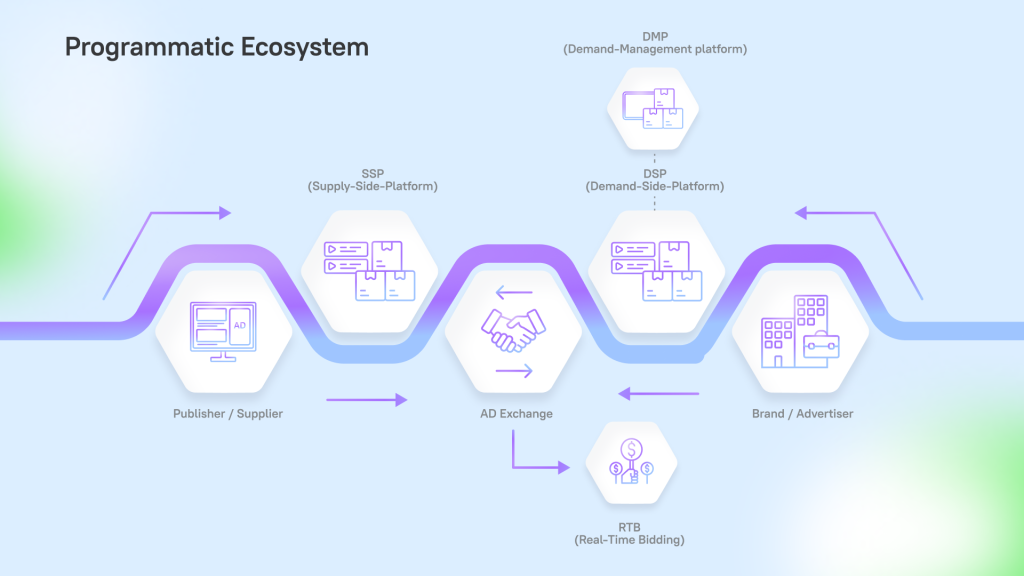 In programmatic advertising, the relationship and interactions between these two sides are fully automatic.
An ad exchanger is a medium by which the supply side introduces inventory into the ad exchange. Various stakeholders can buy or sell ad space through DSPs, with prices finalized via bidding. Some leading ad exchangers include Xandr (Microsoft), OpenX, and Google Ad Exchange.

Programmatic Trends
Video Ads
In 2022, video outperformed non-video formats in programmatic advertising expenditure for the first time, primarily propelled by Connected TV (CTV). The term refers to any TV set streaming video over the internet. In addition to smart TVs, the term refers to TVs connected via set-top boxes and even gaming consoles.
Excluding CTV, video would contribute to only 39.7% of the programmatic digital display advertising budget. Double-digit programmatic CTV ad expenditure growth is expected by the end of 2023.
Mobile Ads
Most programmatic video ad budgets for 2022, specifically 65.2%, were allocated to mobile. Nevertheless, non-video formats on mobile will retain over half of the mobile programmatic display ad spending until 2023. Yet, with the escalating popularity of social video ads and the rising advertiser interest in platforms like TikTok, video's slice of the mobile programmatic display pie is poised to grow further.
Retail Media Networks
Retail media networks are on track to be the next thing. For programmatic advertising, this suggests an enhanced ad supply directly linked to the purchasing decision, coupled with the advantage of insightful consumer data.
The past couple of years have seen a surge in the initiation of retail media networks. From leading digital marketplaces to mass-selling outlets, specialty retailers, national grocery chains, and delivery platforms, everyone is stepping into this space.
Cookieless World
Third-party cookies have been leading in online advertising and specifically targeting. However, with new privacy regulations, collecting the necessary information's becoming harder and harder. Programmatic had to abolish all unwanted third-party cookies like the rest of the industry.  And has become more transparent and privacy-focused. Make sure that the service that you use relies on first-party cookies to comply with all regulations. 

Earnings in Programmatic Advertising
Programmatic ads are generally bought using a cost-per-thousand-impressions (CPM) model. And usually, the more specialized the audience, the steeper CPM.
CPM prices can vary, typically falling between $0.50 and $2.00. However, these costs can surge based on various elements like the DSP you opt for, the desired target group, and the intensity of competition in the market.
Some believe that CPMs aren't the best method of calculating the campaign's success as it's not reliant on clicks or actions like the usual affiliate marketing deals. However, the more specific targeting with remarkable precision, flexibility in pricing through models like RTB, and ease of automation have shown incredible results in many cases. Some examples are the Child Rescue Alert (the campaign resulted in a 20% surge in response rate for missing children) and The Economist (the campaign showed a 10:1 return on a £1.2m advertising budget).
Now you know what programmatic advertising is and how it works. Try new strategies, use advanced technologies, and don't forget about creative experiments! Launching advertising campaigns has become easier and more exciting with the development of machine learning, AI, and automation. Read our articles and develop professionally!